06-24-2019, 04:59 AM (This post was last modified: 07-14-2019, 05:28 AM by kyonides. Edit Reason: Updated Script and included a Screenshot! )
KScenario XP & Gosu
Version 1.0.21
Introduction
This scriptlet should let you choose a starting hero and then send him to some available destination in no time!
It has become a full fledged script but any tester is welcome to run it and provide as much feedback as possible to improve it and make it look better and be useful for the average script devouring user.

Don't worry! Some of the black frames or boxes can be replaced by custom backdrops!

The script also lets you exclude chosen heroes in case you find it convenient! It will either let you go back to this scene later on without duplicating heroes!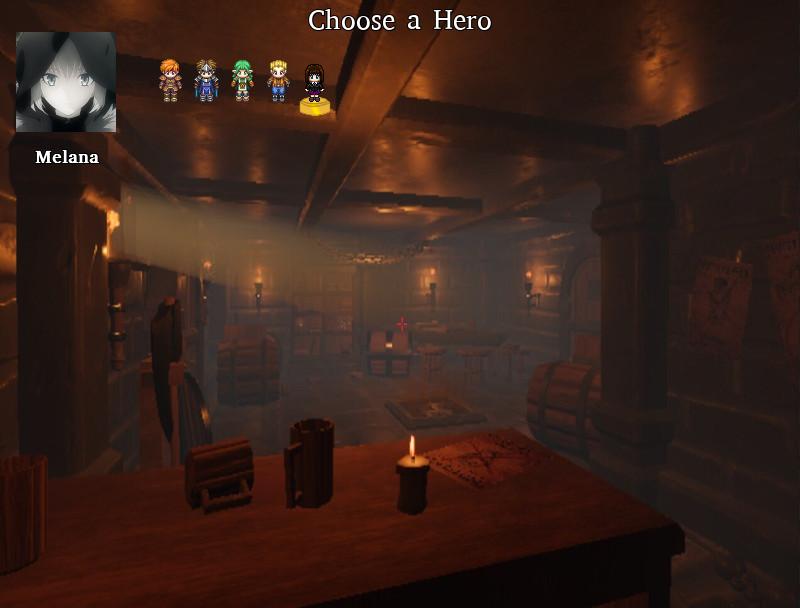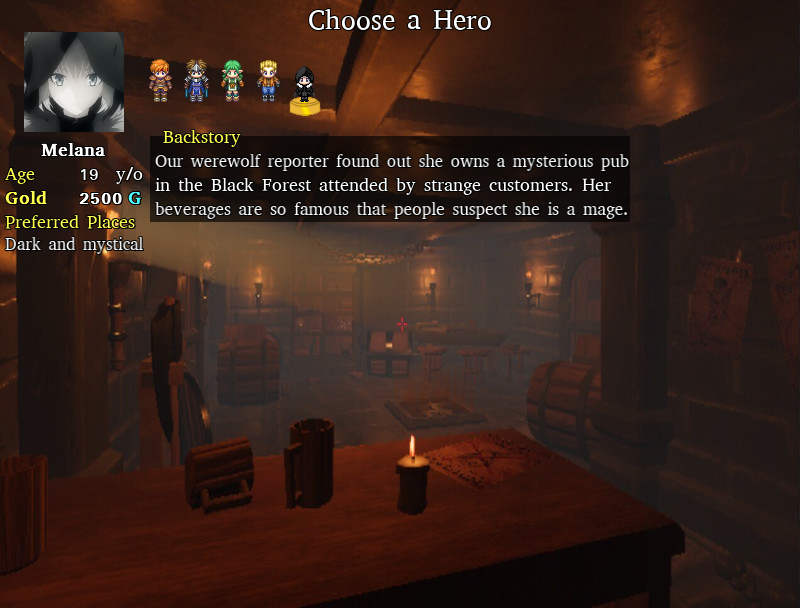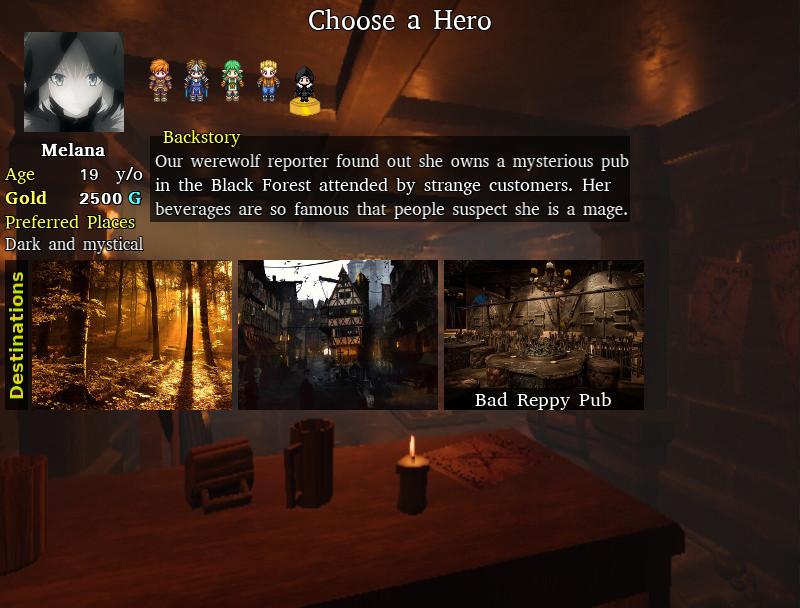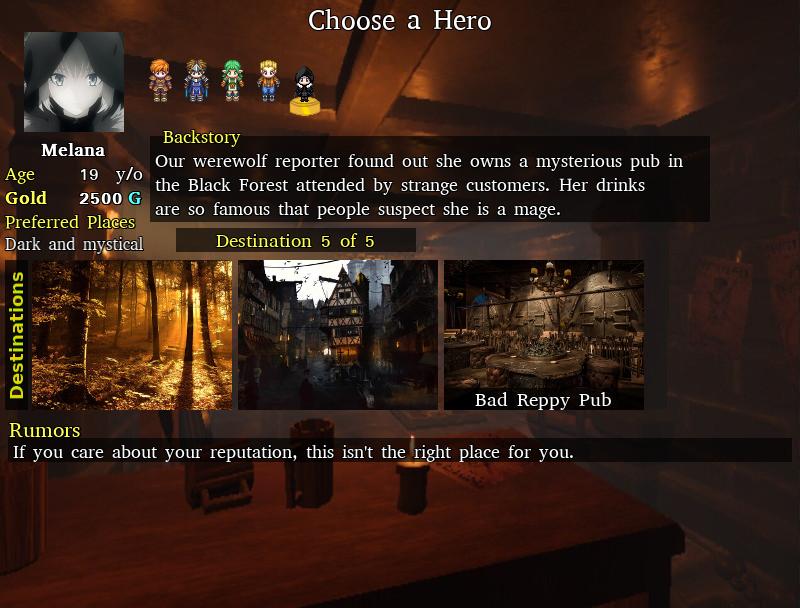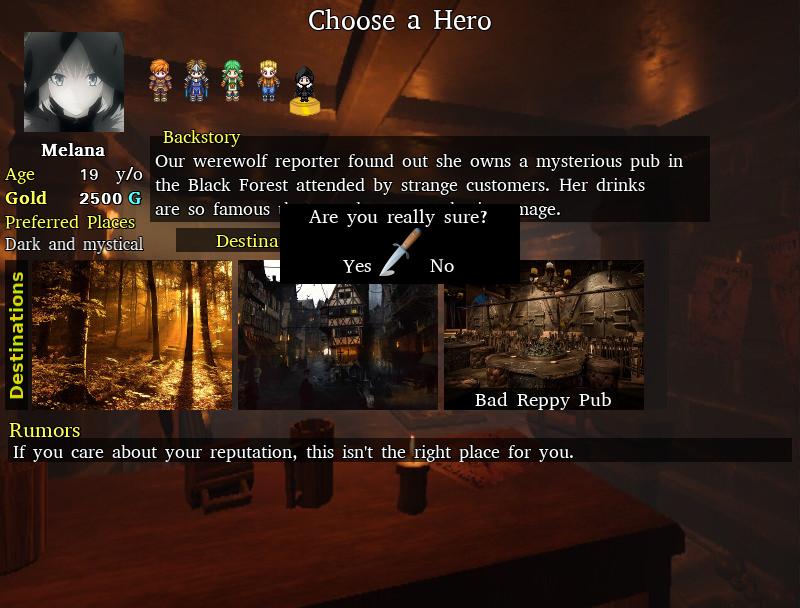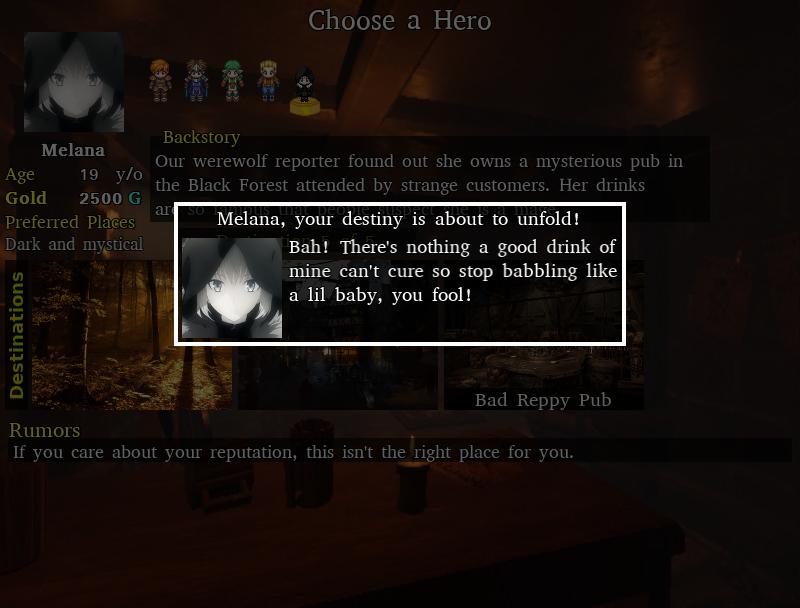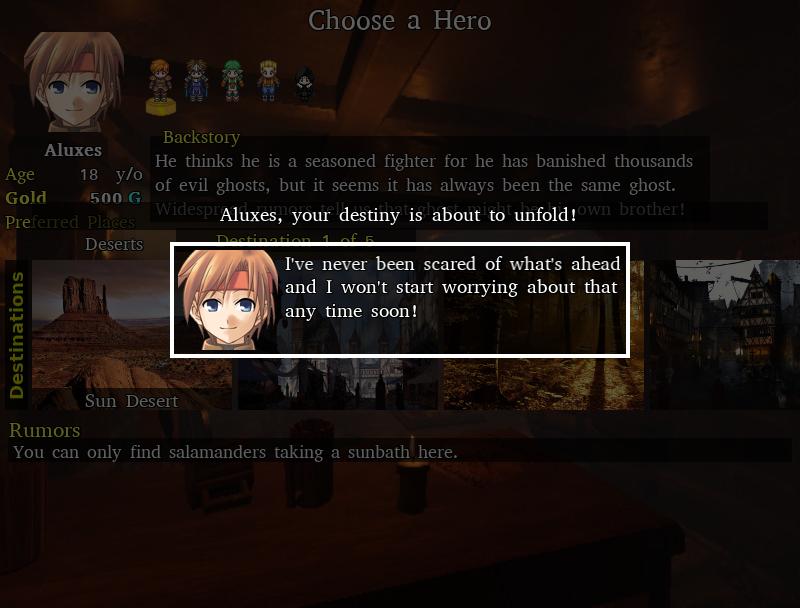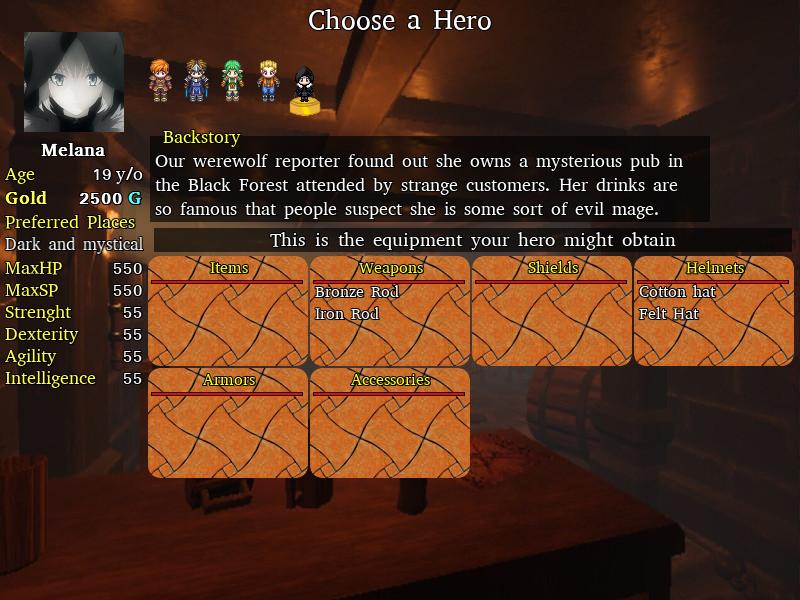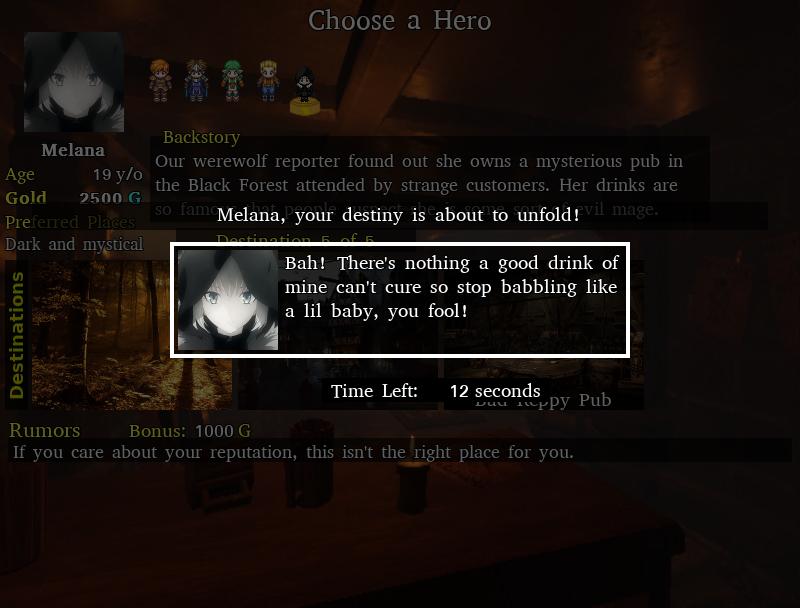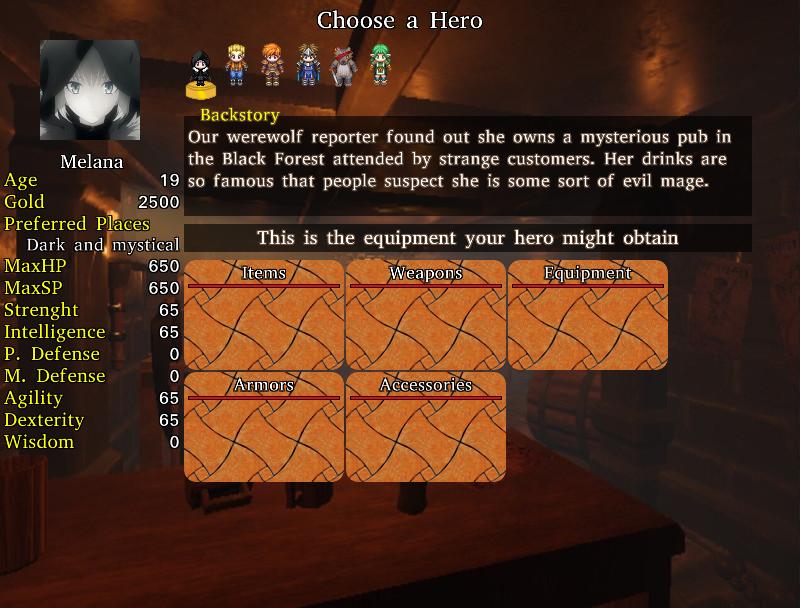 Templates
You can find all kinds of templates in the Download Section.
Create a text file and name it "hero ID.txt" where ID is a number.
Code:
Age: 19
Gold: 2500
Items:
Weapons: 29,30
Shields:
Helmets: 9,10
Body Armors:
Accessories:
Place: Dark and mystical
Description - 3 Lines Max!
Our werewolf reporter found out she owns a mysterious pub in
the Black Forest attended by strange customers. Her drinks are
so famous that people suspect she is some sort of mage.
Reply - 4 Lines Max!
Bah! There's nothing a good drink of
mine can't cure so stop babbling like
a lil baby, you fool!
Create another text file and name it "places.txt". It will include all possible destinations for your hero!
Code:
Map ID: 1
X Coord: 10
Y Coord: 10
Extra Gold: 500
Name: Sun Desert
Picture: arid land
Description: You can only find salamanders taking a sunbath here.

Map ID: 2
X Coord: 10
Y Coord: 10
Extra Gold: 500
Name: Cherry Town
Picture: medieval town
Description: A quite noisy town where you can find anything you need.

Map ID: 3
X Coord: 10
Y Coord: 10
Extra Gold: 1000
Name: Sunset Valley
Picture: sunset woods
Description: You'd get lost in no time unless you're an elf!

Map ID: 4
X Coord: 10
Y Coord: 10
Extra Gold: 600
Name: Suicide Slums
Picture: medieval slums
Description: Everything has a price, life is no exception!

Map ID: 5
X Coord: 10
Y Coord: 10
Extra Gold: 1000
Name: Bad Reppy Pub
Picture: strange pub
Description: If you care about your reputation, this isn't the right place for you.
Do not forget to leave an empty line at the end of the text file!

Place all of them in a folder named KScenario.
By the way, I have included some of the pictures and icons I used in my script except those Melana had already provided.

A Friendly Advice
KScenario needs FACES!

In case you are using RMXP not mkxp nor HiddenChest and you get any Graphics.width or Graphics.height related issue, copy and paste the script found in Basic Width and Height thread found here in the Scripts section in your script editor and everything should be fine. If not, then also include the following snippet in the editor:
Code:
module RPG
 module Cache
   def self.face(name) load_bitmap('Graphics/Faces/', name) end
 end
end
FAQ
Q:
I keep getting an error concerning some nil NilClass that could not be found...
A:
Make sure you did not create a template for a non existing hero in your game database.
"For God has not destined us for wrath, but for obtaining salvation through our Lord Jesus Christ,"

1 Thessalonians 5:9
Maranatha!
The Internet might be either your friend or enemy. It just depends on whether or not she has a bad hair day.





My Original Stories
(available in English and Spanish)
List of Compiled Binary Executables I have published...
HiddenChest
&
Roole
Give me a free copy of your completed game if you include at least 3 of my scripts!

Just some scripts I've already published on the board...
KyoGemBoost XP VX & ACE
,
RandomEnkounters XP
,
KSkillShop XP
,
Kolloseum States XP
,
KEvents XP
,
KScenario XP & Gosu
,
KyoPrizeShop XP Mangostan
,
Kuests XP
,
KyoDiscounts XP VX, ACE & MV
,
KChest XP VX & ACE 2016
,
KTelePort XP
,
KSkillMax XP & VX & ACE
,
Gem Roulette XP VX & VX Ace
,
KRespawnPoint XP, VX & VX Ace
,
GiveAway XP VX & ACE
,
Klearance XP VX & ACE
,
KUnits XP VX, ACE & Gosu 2017
,
KLevel XP
,
KRumors XP & ACE
,
KMonsterPals XP VX & ACE
,
KStatsRefill XP VX & ACE
,
KLotto XP VX & ACE
,
KItemDesc XP & VX
,
KPocket XP & VX
,
OpenChest XP VX & ACE