Here's 2 pretty useful ActionScripts I came up with while getting annoyed trying to convert things manually.
It is for
Photoshop
and should be compatible with all as the script only involves simple moving and resizing of the canvas.
These ActionScripts basically take an Autotile from Vx Ace and converts it into a perfect XP autotile.
This works for
both
animated and non animated tiles.
There are instructions included with the files. Please read them as you may run into some bugs/errors if you don't.
These only convert a single Autotile at a time.
Please refrain from trying the Actionscripts on a whole set of them.
The instructions tell you how to go about it
Download:
Here
Animated Autotile Ex: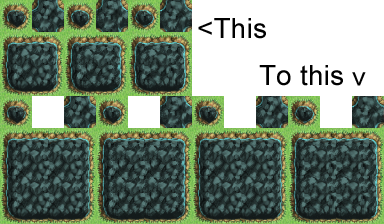 Non Animated Autotile Ex: