05-29-2005, 01:00 PM (This post was last modified: 05-13-2017, 04:07 AM by DerVVulfman.)
Simple CMS
by Vash
May 29, 2005
This is a locked, single-post thread from Creation Asylum. Archived here to prevent its loss.
No support is given. If you are the owner of the thread, please contact administration.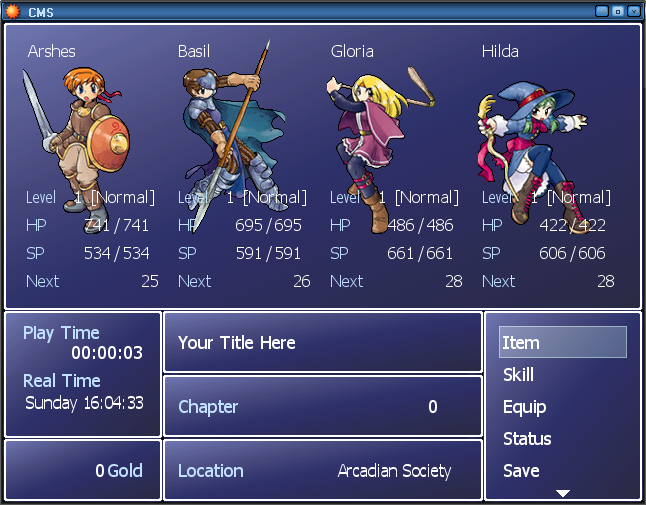 To change the Chapter number go to the event Editor and click variable operation and check Specific Variable to 001 and name it Chapter. Then for the operator check the + and for the constand change the 0 to whatever chapter number you like.
Code:
class Window_Base < Window

def draw_actor_battler(actor, x, y)
face = RPG::Cache.battler(actor.character_name, actor.character_hue)
fw = face.width
fh = face.height
src_rect = Rect.new(3, -1, fw, fh)
self.contents.blt(x - fw / 23, y - fh, face, src_rect, opacity)
end
end

class Window_Location < Window_Base

def initialize
super(0, 0, 322, 64)
self.contents = Bitmap.new(width - 32, height - 32)
self.contents.font.name = $defaultfonttype
self.contents.font.size = $defaultfontsize
refresh
end
def refresh
self.contents.clear
self.contents.font.color = normal_color
$data_map_infos = load_data("Data/MapInfos.rxdata")
self.contents.draw_text(150, 0, 124, 32, $data_map_infos[$game_map.map_id].name, 2)
self.contents.font.color = system_color
self.contents.draw_text(0, 0, 120, 32, "Location")
end
end

class Window_Title < Window_Base

def initialize
super(0, 0, 322, 64)
self.contents = Bitmap.new(width - 32, height - 32)
self.contents.font.name = $defaultfonttype
self.contents.font.size = $defaultfontsize
refresh
end
def refresh
self.contents.clear
self.contents.font.color = normal_color
self.contents.draw_text(0, 0, 120, 32, 'Your Title Here')
end
end

class Window_Chapter < Window_Base

def initialize
super(0, 0, 322, 64)
self.contents = Bitmap.new(width - 32, height - 32)
self.contents.font.name = $defaultfonttype
self.contents.font.size = $defaultfontsize
refresh
end
def refresh
self.contents.clear
self.contents.font.color = system_color
self.contents.draw_text(0, 0, 120, 32, 'Chapter')
self.contents.font.color = normal_color
self.contents.draw_text(250, 0, 120, 32, $game_variables[1].to_s)
end
end

class Window_PlayTime < Window_Base

def initialize
super(0, 0, 160, 129)
self.contents = Bitmap.new(width - 32, height - 32)
self.contents.font.name = $defaultfonttype
self.contents.font.size = $defaultfontsize
refresh
end
def refresh
self.contents.clear
self.contents.font.color = system_color
self.contents.draw_text(4, -10, 120, 32, "Play Time")
@total_sec = Graphics.frame_count / Graphics.frame_rate
hour = @total_sec / 60 / 60
min = @total_sec / 60 % 60
sec = @total_sec % 60
text = sprintf("%02d:%02d:%02d", hour, min, sec)
self.contents.font.color = normal_color
self.contents.draw_text(4, 10, 120, 32, text, 2)
self.contents.font.color = system_color
self.contents.draw_text(4, 38, 120, 32, "Real Time")
@time_string = Time.now
text = @time_string.strftime("%A %H:%M:%S")
self.contents.font.color = normal_color
self.contents.draw_text(4, 60, 120, 32, text, 2)
end

def update
super
if Graphics.frame_count / Graphics.frame_rate != @total_sec
refresh
end
end
end

class Window_MenuStatus < Window_Selectable

def initialize
super(0, 0, 640, 289)
@column_max = 4
bw = 152 * @column_max
bh = (($game_party.actors.size - 1) / @column_max + 1) * 256
self.contents = Bitmap.new(bw, bh)
refresh
self.active = false
self.index = - 1
end
def refresh
self.contents.clear
self.contents.font.size = 20
self.contents.font.name = $defaultfonttype
@item_max = $game_party.actors.size
for i in 0...$game_party.actors.size
x = i % @column_max * 152 + 8
y = i / @column_max * 256 + 96
actor = $game_party.actors[i]
draw_actor_battler(actor, x, y + 100)
draw_actor_name(actor, x, y - 100)
draw_actor_level(actor, x, y + 46)
draw_actor_state(actor, x + 64, y + 46)
self.contents.font.color = system_color
self.contents.draw_text(x, y + 130, 32, 32, "Next")
self.contents.font.color = normal_color
self.contents.draw_text(x + 32, y + 130, 100, 32, actor.next_rest_exp_s, 2)
draw_actor_hp(actor, x, y + 74)
draw_actor_sp(actor, x, y + 102)
end
end
def update_cursor_rect
if @index < 0
self.cursor_rect.empty
return
end
cursor_width = 152
x = @index % @column_max * 152
y = @index / @column_max * 256 - self.oy
self.cursor_rect.set(x, y, cursor_width, 256)
self.oy = @index / @column_max * 256
end
end

class Scene_Menu

def initialize(menu_index = 0)
@menu_index = menu_index
end
def main
s1 = $data_system.words.item
s2 = $data_system.words.skill
s3 = $data_system.words.equip
s4 = "Status"
s5 = "Save"
s6 = "Exit"
@command_window = Window_Command.new(160, [s1, s2, s3, s4, s5, s6])
@command_window.height = 5 * 32 + 32
@command_window.x = 480
@command_window.y = 288
@command_window.index = @menu_index
if $game_party.actors.size == 0
@command_window.disable_item(0)
@command_window.disable_item(1)
@command_window.disable_item(2)
@command_window.disable_item(3)
end
if $game_system.save_disabled
@command_window.disable_item(4)
end
@playtime_window = Window_PlayTime.new
@playtime_window.x = 0
@playtime_window.y = 288
@gold_window = Window_Gold.new
@gold_window.x = 0
@gold_window.y = 416
@location_window = Window_Location.new
@location_window.x = 159
@location_window.y = 416
@chapter_window = Window_Chapter.new
@chapter_window.x = 159
@chapter_window.y = 352
@title_window = Window_Title.new
@title_window.x = 159
@title_window.y = 288
@status_window = Window_MenuStatus.new
@status_window.x = 0
@status_window.y = 0
Graphics.transition
loop do
Graphics.update
Input.update
update
if $scene != self
break
end
end
Graphics.freeze
@command_window.dispose
@playtime_window.dispose
@gold_window.dispose
@location_window.dispose
@chapter_window.dispose
@title_window.dispose
@status_window.dispose
end
def update
@command_window.update
@playtime_window.update
@gold_window.update
@location_window.update
@chapter_window.update
@title_window.update
@status_window.update
if @command_window.active
update_command
return
end
if @status_window.active
update_status
return
end
end
def update_command
if Input.trigger?(Input::B)
$game_system.se_play($data_system.cancel_se)
$scene = Scene_Map.new
return
end
if Input.trigger?(Input::C)
if $game_party.actors.size == 0 and @command_window.index < 4
$game_system.se_play($data_system.buzzer_se)
return
end
case @command_window.index
when 0
$game_system.se_play($data_system.decision_se)
$scene = Scene_Item.new
when 1
$game_system.se_play($data_system.decision_se)
@command_window.active = false
@status_window.active = true
@status_window.index = 0
when 2
$game_system.se_play($data_system.decision_se)
@command_window.active = false
@status_window.active = true
@status_window.index = 0
when 3
$game_system.se_play($data_system.decision_se)
@command_window.active = false
@status_window.active = true
@status_window.index = 0
when 4
if $game_system.save_disabled
$game_system.se_play($data_system.buzzer_se)
return
end
$game_system.se_play($data_system.decision_se)
$scene = Scene_Save.new
when 5
$game_system.se_play($data_system.decision_se)
$scene = Scene_End.new
end
return
end
end
def update_status
if Input.trigger?(Input::B)
$game_system.se_play($data_system.cancel_se)
@command_window.active = true
@status_window.active = false
@status_window.index = -1
return
end
if Input.trigger?(Input::C)
case @command_window.index
when 1
if $game_party.actors[@status_window.index].restriction >= 2
$game_system.se_play($data_system.buzzer_se)
return
end
$game_system.se_play($data_system.decision_se)
$scene = Scene_Skill.new(@status_window.index)
when 2
$game_system.se_play($data_system.decision_se)
$scene = Scene_Equip.new(@status_window.index)
when 3
$game_system.se_play($data_system.decision_se)
$scene = Scene_Status.new(@status_window.index)
end
return
end
end
end