12-16-2006, 01:00 PM (This post was last modified: 05-12-2017, 04:03 AM by DerVVulfman.)
Leon Blade's CMS
(Custom Menu System)
Dec 16 2006
This is a locked, single-post thread from Creation Asylum. Archived here to prevent its loss.
No support is given. If you are the owner of the thread, please contact administration.
I have my menu system to share with you today!
First this is Scene_Menu place this above Main
Here is the new screen shot.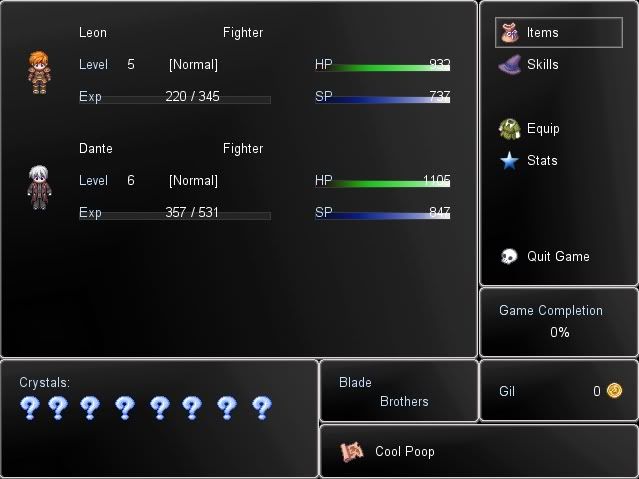 Scene_Menu - Place above Main
Window_Crystals - Place above Menu
Window_Mapname - Place Above Menu
Window_GameTitle - Place Above Main
Window_Gold - Place Above Main
Window_MenuIcons - Place Above Main
Window_GameCompletion - Place Above Main
You will need the following icons... (not available in post)
These will all be attached to this updated post.
(Original post lost attachment)
The Game Completion is a new thing it uses switches to tell how far into the game you are. When a switch activates your percentage goes up by 1%.
I couldn't didn't want to seperate the icons so I just attached my whole folder and you can choose.
One last thing, if you want the cool gradient bars use this script.
Gradient Bars - Place above Main
This obviously, in case you couldnt tell, requires SDK so keep that in mind if you have scripts that dont work with the SDK. The gradients are also attached just place those in the graphics folder.
Comments And Questions Please!