Create Your Own Profile &
Become a Tyrant!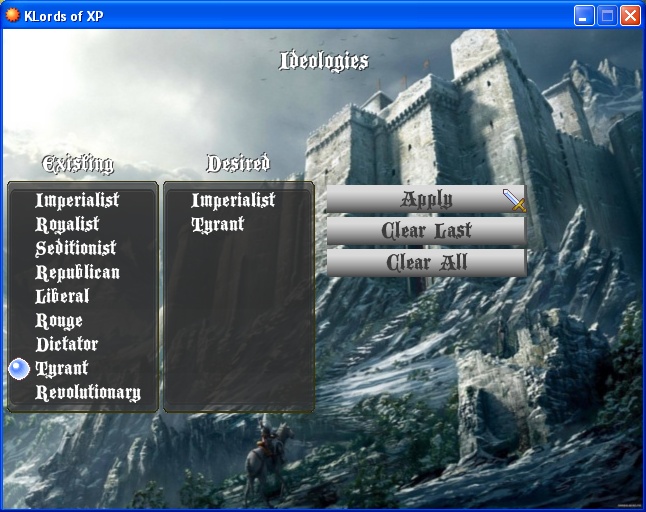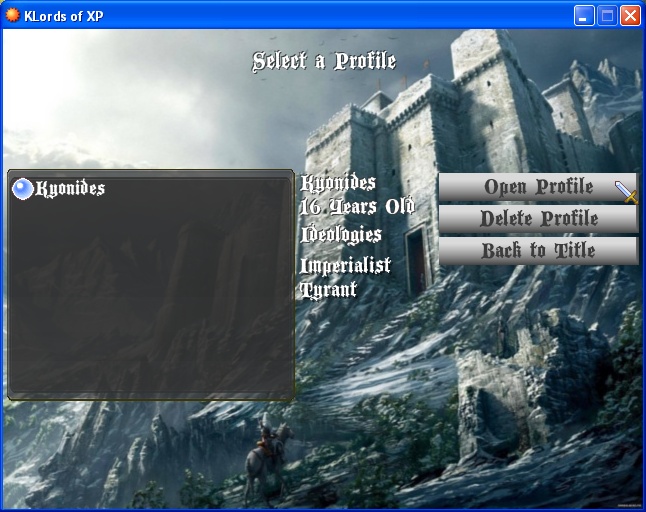 I am back here to announce that KLords of XP version
0.8.0
 now lets you keep your game saves separated by profiles!
Now you do not need to fear anybody else picked your saved games by mistake!


Of course, that will not dissipate your fears completely for they could still do it on purpose.
But that is highly unlikely, right guys? 

By the way, it is also possible to pick your favorite "ideologies" 

 (of a totally political nature anyway).

Right now they do not mean anything specific but they might affect

gameplay in curious manners in a not so near future.

Lords might also be replaced by their descendants at a given point.


 Yet, that does not mean it might happen any time soon for this is still a work in progress.
"For God has not destined us for wrath, but for obtaining salvation through our Lord Jesus Christ,"

1 Thessalonians 5:9
Maranatha!
The Internet might be either your friend or enemy. It just depends on whether or not she has a bad hair day.





My Original Stories
(available in English and Spanish)
List of Compiled Binary Executables I have published...
HiddenChest
&
Roole
Give me a free copy of your completed game if you include at least 3 of my scripts!

Just some scripts I've already published on the board...
KyoGemBoost XP VX & ACE
,
RandomEnkounters XP
,
KSkillShop XP
,
Kolloseum States XP
,
KEvents XP
,
KScenario XP & Gosu
,
KyoPrizeShop XP Mangostan
,
Kuests XP
,
KyoDiscounts XP VX, ACE & MV
,
KChest XP VX & ACE 2016
,
KTelePort XP
,
KSkillMax XP & VX & ACE
,
Gem Roulette XP VX & VX Ace
,
KRespawnPoint XP, VX & VX Ace
,
GiveAway XP VX & ACE
,
Klearance XP VX & ACE
,
KUnits XP VX, ACE & Gosu 2017
,
KLevel XP
,
KRumors XP & ACE
,
KMonsterPals XP VX & ACE
,
KStatsRefill XP VX & ACE
,
KLotto XP VX & ACE
,
KItemDesc XP & VX
,
KPocket XP & VX