12-24-2013, 09:01 AM
Todays Topic : Character Graphics
Okay, so the boys 'n I have been discussing animation and paper-dolling in IRC, so I've decided to make this sample presentation on how file organization might work for this system. Keep in mind, these plans are still in the "rough draft" stage, but I wanted to get it out there so we can get feedback from the others and refine certain things before we lay code down.
Before we get started, let's introduce our sample hero.
Who Is Logan?
For our presentation, Logan is a main character in our fantasy project. With that said, he's going to require a bunch of different sprites, and our system will demonstrate how they will all be packaged and organized. Also, we'll discuss the flexibility of this concept along with some other ideas.
Fig A
Looking at
Fig A
, we can see that he has 3 sets of graphics;
Character
,
Battler
, and
Face
.
Each folder has a Logan.png and a personalized */Logan/ sub-folder which shares the same name as the sprite in question. This name share is done on purpose because within the */Logan/ sub-directory contains each animated sprite set, representing each action and pose.
Also, there is the */$Weapons/ directory, but first let's take a look at all of Logan's action cells.
Fig B
You can see he has lots of individual actions. In battle, he has idle, approach, attack, MP casting, etc. He's got animations on the map for walking (the default Logan.png), running, jumping, waiting and the down pose for when he's asleep or dead. Lastly, while not actually visible, his Faces consist of various states such as angry, sad, excited, etc.
Hm, next let's take a look at the sample */$Weapons/ directory.
Fig C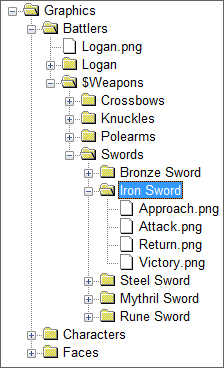 This is a very basic sample of paper-dolling, where the weapons are bonded with the actual character actions. In this case, the Iron Sword is a common paper-doll weapon shared amongst various battlers. While Logan himself has way more actions than what is listed for this weapon, the Iron Sword as displayed in
Fig C
only needs to be represented in 4 sprite sets; Approach, Attack, Return, Victory.
If an entity wields the Iron Sword differently than the rest of the cast, they can be assigned a personalized weapon directory.
*/Logan/Weapons/Swords/Iron Sword/...
With this example, Logan now uses a
personalized frame set
instead of the common frames used in the global */$Weapons/ directory others might be using. Maybe his approach and attack are different, or he is the only one to carry his weapon one handed. Either way, yes, he can have a different frame set than the rest if the developer so chooses.
About : Default and Custom Actions
Each battler, map character and face has default and/or custom actions. To elaborate further...
Graphics/Battlers


A battler can either use a single, static sprite to represent every action (in our example, */Battlers/Logan.png without a sub-directory) or they can have frames for all sorts of actions. A full set of default actions, represented with as many or as little frames as wanted, is so...
Ready
LowHP
Hurt
Blocking
Approach
Attack
Return
Skill (Charge)
Skill (Casting)
Item
Victory
Knockout
Of course, any and all of these can be omitted with the use of the single frame static sprite (Logan.png), but we can also assign custom actions like so...
Special 1
Special 2
Special 3
Special 4
Or even custom damage frames like...
Hurt
Hurt (Fire)
Hurt (Ice)
In this case, the developer would simply have to set up the special frames in the Damage Reaction section of the database (but that's an entirely different discussion for another day.)
Graphics/Characters


The Logan.png in this folder just represents the basic walk frames, either 4 direction or 8 direction. Any animation in the sub-folder is assigned via events. For instance, building a Run script, you would call this line within to activate the proper frames when running.
$game_player.sprite_action = "Run"
Graphics/Faces
While Logan.png is the default sprite used in menus, the developer might want to craft a custom emotion set to represent their major characters in messages, like so...
@> Comment : Set Logan's face status to "Angry"
@> Message Option [Face Align] set LEFT
@> Show Message (Logan, "Angry")
@> "I can't believe it, they're closed! It looks like we'll have to find another solution."
In the sample event, the command Show Message (Logan, "Angry") would signal the system to look for Logan's "Angry" face sprite. If the */Logan/ sub-directory is missing or empty, it would use the default Logan.png file instead.
Conclusion
In this presentation we used the hero, Logan, to present how the new system might be organized to streamline dynamic animated actions as well as paper-doll accessories, both unique and shared. Granted, not every character entity in your project is going to need all this luggage, nor did we go over every case scenario, but it should give a general idea of the way the system is planned.
Lastly, Logan was represented to the scope that he is most likely the main character in the project. Not all heroes, enemies, NPCs, etc will come with this amount of graphical baggage, it's all in the purpose of the character (or even object) being represented.